Are you ready to play ball?
We have a player to give first hand advice!
Beat the competition and make a tacticle choice with Invacare's new football powerchair TDX2 Sprint
Invacare TDX2 Sprint Football Powerchair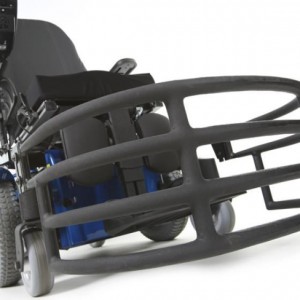 Take control of your game
Comfort
Focus on your position with Invacare's highly adaptable

 

Modulite

 

seating system, featuringMatrx

 

positioning backs and cushions.
Confidence
Interchangeable shrouds now featuring 7 modern colours, also allows for customisation to team colours.
Quick and easy to adapt to suit any player's needs.
Improve your game with better weight distribution and posture with Modulite seating.
Control
Take control of your game with the intuitive

 

DX2

 

control system.
Strike harder with the

 

TDX2 Sprint

 

mid wheel drive football chair.
Manoeuvrability
Out manoeuvre the competition with the compact and stable wheel base of the

 

TDX2 Sprint

 

featuring stability lock and

 

SureStep

 

technology.
Safety
Optional H-Belt for enhanced safety when attacking the opposition.
Rear bumper as standard.
Optional front bumper.
Click here to download a brochure about the TDX2
---
Invacare Storm 3 FFH Competition Powerchair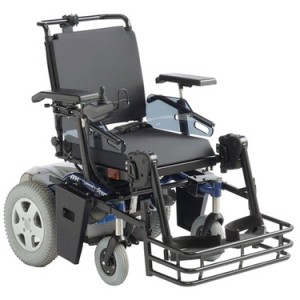 Powerchair Football is a fast paced team sport for people of all ages who use a power wheelchair. It is a dynamic activity which encourages teamwork and sport skills which enhance the lives of people with physical disabilities.
Powerchair football is played on a regulation basketball court with a 13″ ball. Four team members (one of whom is the designated goalkeeper) attempt to pass and kick the ball across the goal line while keeping the other team from doing the same. The ball is kicked or passed by a footguard which is attached to the chair. The wheelchairs are regulated to have a top speed of 10 kph (6.2 mph) and may be used forward, backward, or in a spinning motion to kick the ball.
The Invacare Storm Competition is a wheelchair specifically designed to meet the tough requirements of power football. With its unique football programme, the Storm Competition provides unbeatable acceleration and power to win the game. Its detachable foot-guard is easy to mount and is designed to be the perfect shape to enhance ball control. Front-wheel traction, powerful motors and custom built electronics all contribute to giving playersd real control of the game.. but why not experience the Storm Competition for yourself and give it a try.
Notes:
Due to greater acceleration and speed, the Storm Competition is subject to high levels of strain during games. Owners should ensure that they use their power wheelchair responsibly.
Click here to download a brochure about the 3 FFH